PUZZLE BREAK Rego Park IS PERFECT FOR TEAM BUILDING EVENTS, SOCIAL EVENTS, BIRTHDAY PARTIES, BACHELOR AND BACHELORETTE PARTIES AND MORE! WE OFFER PRIVATE EVENTS FOR GROUPS OF ALL SHAPES AND SIZES. INQUIRE TODAY FOR MORE INFORMATION REGARDING BOOKING A PRIVATE EVENT WITH PUZZLE BREAK Rego Park, INCLUDING THE USE OF OUR MULTIPLE ESCAPE ROOMS, PRIVATE EVENT ROOMS AND VARIOUS FOOD AND BEVERAGE PACKAGES.
Contact Us To Learn More About Private Events!

Puzzle Break Rego Park's premier escape-the-room games offer an exciting, unique and challenging experience for all! At Puzzle Break Rego Park, teams of players race against the clock to find clues, solve puzzles, and decode the locks to escape the adventure game room within 60 minutes! A truly fun and unique adventure for any occasion.

Are you interested in taking your private event to the next level? Put Puzzle Break Rego Park to work, and we will create the perfect experience that is designed specifically around the needs and goals of your group.

Your groups experience at our facility can be customized to your team's needs and time constraints. Scheduling is handled on a per-team basis; we can generally accommodate most teams' preferred times, day or night. Price is dependent on the size of your group and duration of your event.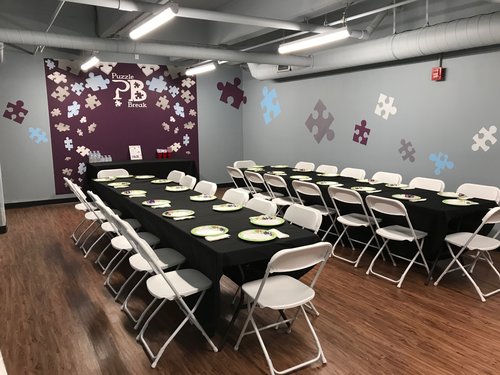 TEAM BUILDING AT PUZZLE
BREAK REGO PARK!
Teams are given tasks to complete with a tight deadline. To succeed, your team must communicate effectively, collaborate and focus on the task at hand while working diligently towards a common goal.
Does this sound like a typical day in your business? If so, let Puzzle Break Rego Park help strengthen your team unity.
We offer fun, interactive, team building experiences that demand groups work together and communicate clearly to be successful. Most importantly, our team building escape experience is centered on "fun" which we believe is the key to forming genuine, collaborative relationships with others.
The end result - teams that are more productive, creative, connected and motivated.